While your neighbors were busily remodeling during last year's Covid-19 confinement, maybe you were not quite ready to take the plunge. It was all you could do to keep your house eco-friendly clean and non-toxic. You were satisfied just to keep your environment green clean. Because your employer has extended your work-from-home scenario (stay safe stay home) and you are tired of staring at the outdated (fill in the blank). This is your summer for home improvements but you don't want to lose all the go green gains you have made. The overarching question, "How much money do you have to work with?" Sets the parameter for these follow-up questions.
How long do you intend to live in your home?
Where do you find green products and environmentally friendly service providers?
Is this a DIY project or are you hiring it out? Have you considered sustainable construction practices and different Eco-construction companies?
Where should you go on the cheap and where should you invest more? Is zero waste part of your construction plan and will you reuse and repurpose what you have?
What is your timeframe for getting the remodel completed?
If you have not thought through all these questions, iron them out before starting the job and you won't run into as many snags along the way. There will always be some unforeseen hang-up when it comes to home improvements, no matter what amount of money you have for the project or who is doing the work. In my opinion, I think it is another one of Murphy's Laws.
How long do you intend to live in your home?
The answer to this question will help you determine what type of return on your investment you will make. Kitchen and bath remodels are highly sought-after improvements for home buyers. But you don't need to break the bank to do them. If you need to paint a room and you love the color teal but intend to sell soon, opt for more neutral colors in which a potential buyer could see him/herself in that space.
Subsequent questions that need to be addressed are:
What needs to be redone in the room? In other words, what is driving you crazy with the room as it is?
That "one thing" should lead the charge and set the direction for the renovation.
If this is a kitchen remodel, maybe you are on the fence about painting the cabinets or refinishing them, table that decision until you have greater clarity and work on something you do have clarity for.
I was dead set on painting our kitchen cabinets but after painting the kitchen walls, the cabinets didn't look too bad. In fact, they seemed to add warmth to the room that was fitting with the new color on the walls. All they needed was a good eco-friendly household cleaning with Brightly Green cleaning products.
Green Cleaning tip for kitchen cabinets:
Give your wood-stained cabinets a deep green clean with Brightly Green Granite and Tile Cleaner. That's right, Brightly Green Granite and Tile Cleaner.
Why? Because it has a little more ethyl alcohol in the formulation that will cut through the buildup of dirt and grime. You will need to finish off by wiping the cabinets with a clean, water dampened rag. After that deep clean, use Brightly Green Wood Floor Cleaner for weekly upkeep. Spray the wood floor cleaner on a clean rag and wipe down cabinets.
When in doubt about an idea, tackle a project you are firm on and the other projects may fall into place. You may do as I did and leave the cabinets as they are or, you may decide that you definitely need to repurpose them. When it comes to structural changes, for the well-being of yourself and your family, choose eco-friendly materials. The use of low VOC paints, and natural stones, and other green building supplies. Some of the toxic paints and solvents commonly used in everyday construction can cause respiratory issues, migraines, skin conditions and many other health issues. Using sustainable construction materials and following eco-friendly cleaning practices in your home will prove long-term benefits for you, your family and the environment.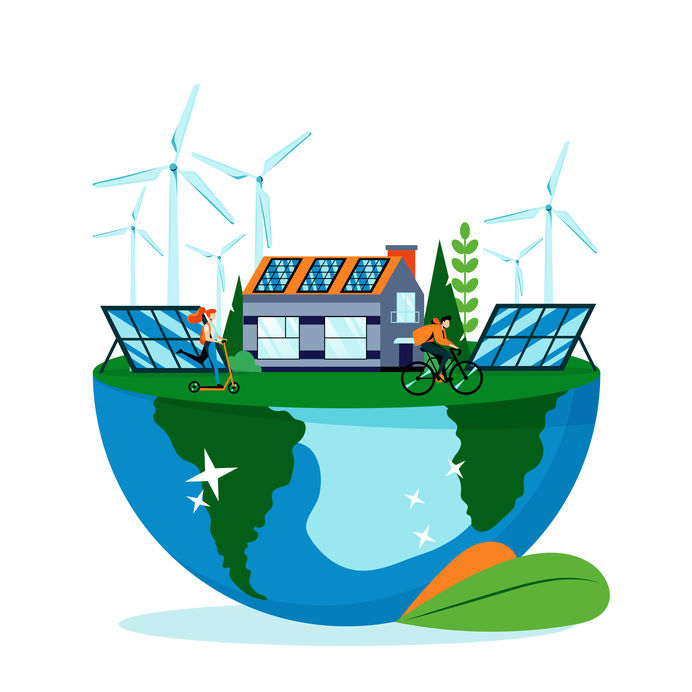 What should I avoid going on the cheap with?
To answer that question, consider how frequently you want to be replacing the object in question.
I consider myself to be a research fanatic. I want my purchases to last a long time and if that means buying on the higher end, then so be it. However, I am also a realist and know my limitations–budget-wise. Some purchases are worth the wait–saving up until you can afford the better quality item. Sometimes it's a different waiting game–waiting until the right month when that big-ticket item is most likely to be on sale. Did you know that certain months are the best times to purchase new kitchen appliances and other months are better for living room furniture and mattresses?
· Indoor furniture: President's Day, Labor Day
· Outdoor furniture: Fourth of July, or Labor Day
· Mattresses: Memorial Day, Fourth of July (just about any holiday weekend)
· Major Appliances: Memorial Day, Fourth of July, Black Friday
· Office Furniture: Spring and Summer months
Best ways to protect your investment:
Congratulations, you did it! In my research, I ran across information pointing to the importance of contacting your homeowners' insurance company to let them know of your home improvements. Do a little personal research yourself or contact your insurance agent? You want any home improvement upgrade to be sure to have appropriate coverage in the unforeseen event of loss/damage.
Additionally, proper cleaning and care will go a very long way to protecting your investment. I recently spoke with one of our wholesale green distributors who works in the cleaning industry and she shared with me that she couldn't believe how people were using bleach to clean marble and granite bathroom showers! The grout in several shower surrounds was eroding due to the effects of bleach! These homeowners did not realize how they were severely damaging their high-end bathrooms with abrasive chemicals all in the name of disinfecting!
Please be aware that you do not need harsh chemicals to clean! As the CDC has repeatedly stated, simple hand-washing with soap and water removes germs. Cleaning with safe, all-natural products that are eco-friendly lifts germs from surfaces while protecting those surfaces from damage.
The goal is the removal of germs and that can be accomplished with natural, non-toxic, and non-abrasive cleaning products! The best eco-friendly products are those made from all-natural sustainable sources and formulated with specific surfaces in mind! Brightly Green has such cleaning products—natural clean while protecting surfaces.
Enjoy your new space and save this article for your next green home improvement project!